Polyurethane Screening System
Produkt Detail
Produkt Tags
De screeningmedia is in wichtich kearnûnderdiel fan screeningapparatuer.As it trillingsskerm trillet, troch de ferskillende foarmen en geometryske maten en ûnder de aksje fan eksterne krêften, sil it grûnstof skieden wurde en it doel fan grading berikke.Alle soarten eigenskippen fan materiaal, ferskillende struktuer en materiaal fan screening paniel of spanning en ferskate parameters fan screening masine hawwe bepaalde ynfloed op skerm fermogen, effisjinsje, running rate en libben.Ferskillende materialen, ferskillende plakken, moatte kieze ferskillende screening media produkten te berikken better skerm effekt.
Hinget ôf fan ferskate apparatuer, eask en omstannichheden, de screeningmedia kinne wurde skieden troch ûndersteande searjes
1.Modular rige
2.Tension rige
3.Panel rige
De ferbining mei de apparatuer is oer it algemien ferdield yn: mozaïekferbining, boutferbining, drukbalkeferbining, screeninghaakferbining ensafuorthinne.
Mining applikaasjes
1.Pre-grinding ore
2. Pre-heap leach
3.High grade ferro ore
4.Mill discharge skermen
5.Dense media circuits
6.Control screening - fyn fuortheljen
It polyurethane-screeningsysteem makket folslein gebrûk fan 'e treflike wearbestindigens fan' e polyurethane-elastomeer, dy't de hege sterkte, hege ferlinging en hege elastisiteit yn 'e hurdensberik toant.Polyurethane is in ideaal materiaal foar screening.It biedt slijtvastheid en is fleksibel genôch om materiaal opbou te foarkommen.It wurket ek perfekt yn sawol wiete as droege screeningapplikaasjes.Modulêre systemen kinne wurde makke foar elke grutte, foarm en sterkte.Oanpast foar elke masine- en klantspesifikaasje, sadat it folslein ynterferoarlik wurdt mei oare systemen.Dit systeem is ideaal foar screening en de-watering.De polyurethane panielen kinne ek hiel fluch ferfongen wurde sûnder de needsaak fan spesjalistyske kennis of ark.D'r binne in ferskaat oan ferskillende aksessoires om gebrûk te meitsjen oer in breed oanbod fan tapassingen.Benammen ús polyurethane spanning skermen boud mei metalen kabel fersterking.Dizze ûntwerptechnyk fergruttet de wjerstân fan polyurethane tsjin spanning en lading troch de spanning op te nimmen.De fleksibiliteit is ideaal foar gebrûk by screeningmaterialen opboud op it screening-oerflak of wig by screening.Produsearre yn elke grutte of spesifikaasje om it mooglik te meitsjen om elke masine te passen.Oanpaste maten en wurkjende steat binne ek beskikber op oanfraach.
Polyurethane paniel skerm rige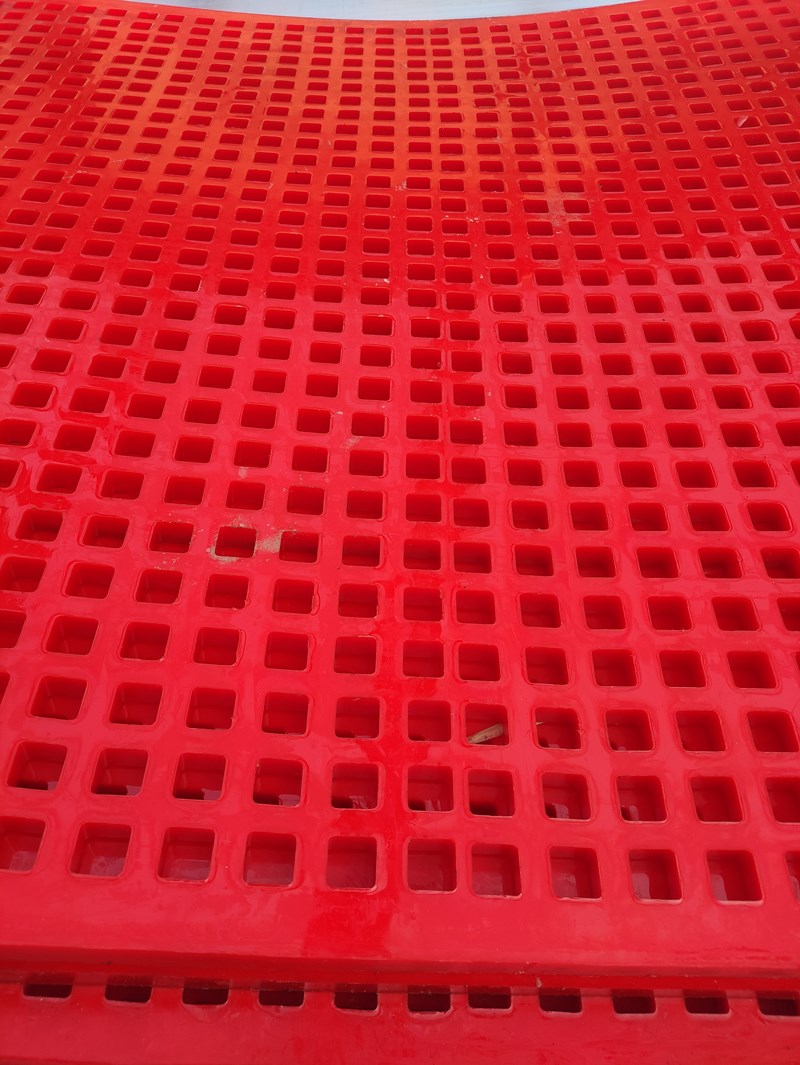 Polyurethane spanning skerm rige
Features
1.Good shock absorption
2.Oalje ferset
3.Low temperatuer ferset
4.Heat aging ferset
5.Korrosjebestriding
6.Elektryske isolaasje
7.Wear ferset
8.Selfreiniging
9.Enerzjybesparring
Wurkparameter fan polyurethane-screeningprodukten
Items
Units
Parameters
Hurdens
Shore A
65
70
75
80
Spanningssterkte
MPa
10
11.5
13.5
16
Brek elongation
%
410
400
395
390
Skearkrêft
N/mm
33
43
47
55
Wear-resistinsje fan DIN
MM³
98
50
39
35
Rebound rate
%
80
70
69
67
---
Folgjende:
SAG / AG / Ball / Rod Milling Rubber Liners
---
Skriuw jo berjocht hjir en stjoer it nei ús